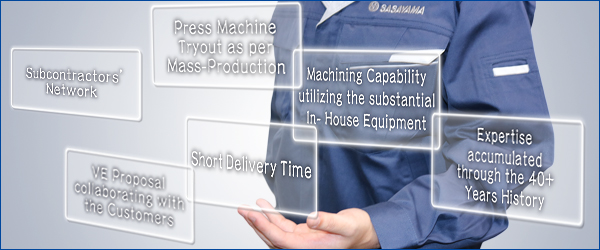 1. Expertise gained through more than 40 years experience
manufacturing various dies for different fields.
Expertise gained through more than 40 years' experience manufacturing various dies for different industries. By integrating all of our accumulated expertise, we continue to innovate.
2. Going for the Design-In in collaboration with the customer
and make the VE proposal.
Constant communication and collaboration with the customer from the design stage to production. We place a great importance on building trust and a long term relationship with the customer.
3. Conducting the press machine tryouts reproducing
the customer's mass-production.
Recreating our customer's mass-production conditions, our 1000ton Mechanical-Press and 600ton Servo-Press Machines as well as a new 1600ton custom press are used for the tryouts in our factory.
4. Top class substantial equipment in this industry
More Details We utilize state of the art CNC Machining Equipment,
Measuring Equipment, Press Machines, etc. for our die manufacturing.
5. Strong support for the customer's overseas development
We have opened a new facility in the United States in order to strengthen support for the customer's overseas development.
6. Utilization of forming simulation, accumulated expertise
and the data base
7. We lead the field in meeting the customers requirement for
the Ultra High-Tensile Strength Steel and Aluminum materials
Sasayama was granted the "Corporate Excellence Prize of The 44th Good Company Award" in 2010.

This award is to be granted to the small and medium-sized enterprises, which achieved an excellent result economically and socially in the year, and renowned as a historic and proved award for the small and medium-sized enterprises

The selection of the award is made once a year according to recommendation and rigorous screening by the Japan's Ministry of Economy, Trade and Industry; Ministry of Education, Culture, Sports, Science and Technology; Chamber of Commerce and Industry; and Small and Medium Business Investment and Consultation Co., Ltd.

Sasayama is the third award winner in Tottori Prefecture since the award was established in 1967.
The Medium and Small Business Research Institute
ABUNDANT HUMAN RESOURCES AND EDUCATION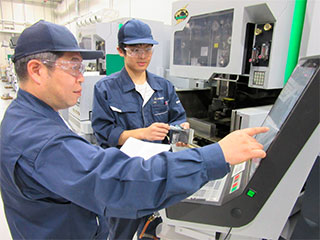 Being a relatively large-scale company in the die/mold industry, we have abundant specialist man power in each section, thus the technical succession is proceeding comparatively smoothly by educating our young engineers through on job the training.
We have been making good and positive use of external training organizations for the sake of our employees education. We are always seeking innovation by a fusion of our "old hands" expertise and experience with our "young hands" enthusiasm and dynamism.