product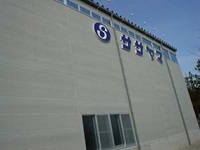 Sasayama has been supplying the diversified precision stamping dies to various industrial fields since our foundation in 1972.
Our company location is Tottori Prefecture in Japan, where few large scale mass-production manufacturers are situated, which forced us to specialize and continually innovate within our industry.
DIE MANUFACTURING PROCESSES
Place the cursor on PROCESS icon for display change.

AUTOMOTIVE DIE RELEVENT INFORMATION
We are capable of meeting the customer's requirement for all-round stamping die types such as Tandem, Progressive and Transfer types.
Our speciality is the PROGRESSIVE STAMPING DIE type, as we have high speed large tryout press machines (AIDA PM X 1600TON, PM X 1000TON and SM X 600TON),
All our press machines are equipped with the leveller feeder, thus the customer's mass-producing conditions/environment can be reproduced in our factory before shipment.
Seat

RISER,LIFTER FR INSIDE
Material:JSH590RN
Thickness : 2.6mm
Process:Progressive 15st

RAIL-LWR/UPR
Upper Rail
Material:980
Thickness:1.4mm
Process : Progressive 23Process

Lower Rail
Material : 780
Thickness : 1.4mm
Process : Progressive 24Process

LEVER,SEAT TRACK LOCK
Material : SPFH590
Thickness : 2.3mm
Process : Progressive 37st (inc. idle)

PANEL,RR SEAT BACK LH
Material : SPCC
Thickness : 0.5mm
Process : TRF 6st 1out
Seat

CUSH PANEL,FR SEAT
Material : SPCC
Thickness : 1.0mm
Process : Progressive 3st + 7st

SIDE FRAME INN,FR CUSH
Material : SAPH440
Thickness : 1.6mm
Process : Progressive 14st 1out

BACK SIDE FRAME
Material : SPFC590B
Thickness : 1.2mm
Process : Progressive 18st
Door

REINFORCEMENT,FR DOOR LOCK
Material : SCGA440-45
Thickness : 1.2㎜
Process : Bk Progressive + TRF 1st 1out

CORNER PIECE・FR DOOR
Material : SCGA 270D-45
Thickness : 1.2mm
Process : Bk Progressive + TRF 12st 1out

Body skeleton

REINFORCEMENT, BACKDOOR STAY RH
Material : SCGA270D-45
Thickness:1.4㎜
Process : Bk Progressive + TRF 6st
Chassis

SPLASH GUARD FR
Material : GA-DQ
Thickness : 0.6㎜
Process : Progressive 8st 1out

BRKT DPR RR R/L
Material : JSH K40W
Thickness : 3.2㎜
Process : Progressive 13st setout

Bumper

REINFORCEMENT,QUARTER PANEL NO.1 RH/LH
Material : SPC270
Thickness : 0.8㎜
Process : Progressive 12st setout
Engine Periphery

VIBRATION CONTROL
Material : SPC440
Thickness : 4.0㎜
Process : BL Progressive + TRF 6st
FLAT SCREEN TV SET related
Our selling point is the back panel for big flat screen TV sets.

Especially we have overwhelming strength in the area of TV screen size bigger than 42" due to high quality (i.e. the panel quality and die lifetime)
and short delivery time, thanks to our long accumulated experience and technology.

HOME APPLIANCE/GAS/PETROLEUM/HOUSING/

ENERGY-SAVING PRODUCTS related
These fields are our historic business lines since our foundation.

The lines are destined for the white goods in the first place such as Microwave Oven, Refrigerator, Washing Machine and Air-Conditioner, further for Kitchen Equipment, Gas Appliance, Energy-Saving Products, etc.